The 'SMARTER' framework can be used to help ensure that goal setting is truly collaborative and client-centred.

Reference: Hersh et al, 2012
NHMRC level of Evidence: Qual.

Rationale: It is recommended that the SMARTER framework is used alongside SMART goals and will encourage greater collaboration within the goal setting process additionally emphasising potential areas of improvement. SMARTER goal setting involves the following notions: Shared, Monitored, Accessible, Relevant, Transparent, Evolving and Relationship-centred (Hersh et al., 2012).
"SMARTER" goal setting
The SMARTER goals framework was developed from a large multicentre project (Goals in Aphasia Project) investigating client, family and therapist perceptions on goal setting within aphasia. The SMARTER framework intends to be used alongside SMART goals and aims to encourage greater collaboration within the goal setting process and emphasise potential areas of improvement. SMARTER goal setting involves the following notions: Shared, Monitored, Accessible, Relevant, Transparent, Evolving and Relationship-centred (Hersh et al., 2012) (see Figure 2).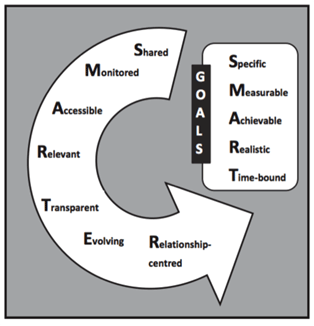 The following description of the SMARTER framework has been adapted from Hersh et al.'s, (2012) article "SMARTER goal setting in aphasia rehabilitation".
Shared
What it means: Ensuring that each other's perspective is understood, having real choices and negotiation, and some agreement resulting from the discussion.
How it can be done: Within a shared approach effort is made to prepare clients, including families and significant others, about what is on offer and what choices exist.
It is not enough for shared goal setting simply to ask people what they want to work on or to invite them into a meeting. They may be too overwhelmed by everything that has happened to them, and too unfamiliar with the process and expectations of rehabilitation, to answer that question. Clients need to be orientated as if to a new job. They need to understand the context and the setting within which their service is provided, who the different health professionals in the team are, what is expected of them, and what they can expect of the team. If therapy is described in terms of goals, that term may need discussion.
People with aphasia and their families need enough information to be partners in the process. There should be regular opportunities to attend meetings, supported as required by aphasia-friendly materials using a range of media (Rose et al., 2009). All results of those meetings should be documented and disseminated in an accessible format. Client preparation (for example, by using a goal-setting folder or arranging a pre-admission interview) provides opportunities for increased client participation (Barnard et al., 2010; Van De Weyer et al., 2010).
To cope with service constraints there is also a need for information on the resources that are available in a specific service (Baird, Tempest, & Warland, 2010).
Monitored
What it means: Monitored denotes continuous evaluation, often as part of therapy itself. The idea is to reduce reliance on discreet periods of assessment to guide goal setting and encourage an iterative approach where small changes in performance, or different requests from clients, lead to a re-evaluation of therapy direction
How it can be done: Monitoring highlights the value of regularly discussing improvement or lack of it, updating on progress towards agreed goals, and making evaluation a part of therapy. The measurement of change on therapy goals does not have to be numerically based. Client self-evaluation and family evaluation are additionally ways of evaluating if goals have been reached. Choices for goals in therapy still need to be evidence-based but not rigid or driven by the results of an assessment that does not reflect client goals. A simple idea is to have a quick set of objects, phrases or maybe a video of the client that comes out every so often to allow for monitoring and checking on changes.
Accessible
What it means: Goal setting with people with aphasia needs to be in a format that allows 'communication access'.
How it can be done: Information needs to be in an aphasia-friendly format, whether that involves extra time, a total communication approach, supported conversation, or careful adaptations to goal setting documents or contracts (Rose, Worrall, Hickson, & Hoffmann, 2011). Just as "talking mats" have been used as a strategy to set goals and monitor change (Bornman & Murphy, 2006) so clinicians may need to develop aphasia-friendly materials for negotiating original goals, showing how goals split into steps, monitoring change, or revising goals.
Relevant
What it means: Therapy should be relevant to people's lives.
How it can be done: For therapy to feel relevant for clients, the goal-setting process needs to be shared and worked through together. It would be useful to have a supported in-depth interview where possible. Ideally people with aphasia in residential rehabilitation would have an opportunity to do this in their real-life context; that is, we suggest a home visit with a speech pathologist as part of the goal-setting exchange, just as occupational therapists carry out home visits prior to discharge. This would allow both clients and clinicians to judge priorities for therapy from a broader life context rather than only from the results of particular assessments. Clients may also wish their goals to be relevant and set at a challenging or ambitious level (Baird et al., 2010; Playford et al., 2009). Clinicians should not assume the relevance of their therapy but check it regularly, involve family, and find ways to ground both impairment and functional work in the real needs of each individual client.
Transparent
What it means: There needs to be clear understanding of the goals and how therapy tasks relate to them.
How it can be done: Through the use of the SMARTER framework there should be clear, accessible records of agreed goals and sub-goals and, ideally, an understanding of the rationale for the therapy approach needed to achieve them. This process may involve time, supported discussion, and a solid understanding of the client's life, needs, and interests. Some speech pathology participants suggested creative ways to achieve this such as using goals lists; visualisation, metaphor and analogy to explain sub-goals (steps, ladders, journey, bite-sized chunks); making sub-goals "outcome oriented"; using hierarchies of everyday activities; encouraging clients to prioritise or rate tasks for importance; and seeking regular feedback.
Evolving
What it means: Goals should change with time, as recovery occurs, as people become familiar with the realities of rehabilitation, and as they encounter the challenges of living life with aphasia.
How it should be done: The term evolving emphasises the need to revise and revisit goals regularly but also incorporates a process of explaining to clients, even early on, that they can ask to change therapy direction, that therapy goals are not set in stone, and that recovery is very individual. This is particularly important for people experiencing failure or depression or finding themselves in less-supportive communication environments. Currently professionals tend to discharge clients who are not demonstrating change or positive outcomes in therapy (Hersh, 2003) but it may be that the therapy goals need reviewing and that improvements could still be realised if the process were more sensitive. It may be worth explaining the changing nature of the brain (there are many YouTube videos on neuroplasticity), slogans such as "use it or lose it", or "use it and regain it" can be helpful when linking this to goals.
Relationship-centered
What it means: The term "relationship-centered care" has been used to highlight the centrality of the relationship in contemporary health care (Hughes, Bamford, & May, 2008) and is the focus of a client-centered approach to working with people with aphasia (Davidson & Worrall, 2011).
How it can be done: The relationship, sometimes described by speech pathologists as "rapport", is core to this and takes priority before formal goal setting and prior to formal assessment where possible. A strong, therapeutic relationship may build quickly or may take time but realistically continues to develop over longer periods.
RESOURCES:
How can I use the SMARTER framework when goal setting?
To achieve a SMARTER framework - read through the framework above and then ask yourself the questions below. For more information visit 'How to set goals with people with aphasia and their family - Tactus Therapy website
.
Shared:
Has the person with aphasia and their family been able to prepare for the session?
Have families and significant others been involved?
Has information been presented in way that is understood?
Is the information relevant?
Is the working relationship a trusting and collaborative one?
Have all involved understood the purpose of goal setting?
Have all involved been able to express their needs, values and expectations?
Relationship-centered:
Have the goals been client-centered?
Has rapport and trust been developed between the person with aphasia and their family and the speech pathologist?
Relevant:
Do the goals take into account the client's broader life context?
Has the client's family and/or carers been involved in the process?
If the person is living at home, are you able to develop goals in the client's home?
Accessible:
Are they written in an aphasia-friendly format?
Does extra time or support need to be provided to ensure understanding of information provided?
Do they understand that they can change their goals if they think of new ones?
Transparent:
Is the person with aphasia and their family clear about which goals will be worked on initially and how these will be evaluated?
Has a clear link been established between the goals they selected and the rehabilitation processes used to achieve these goals?
Have they been able to influence what they will learn about during rehabilitation based on their current needs and goals?
Monitored:
Have the goals been written in a way that allows for continuous evaluation?
Have the goals been written in a way that allows for small changes to be measured?
Can these goals be used to regularly discuss improvements or lack of improvements?
Evolving:
Is the person with aphasia and their family aware that they can revisit and revise the goals?
Are the people with aphasia and their family aware that they can change the focus of rehabilitation if they like?
Adapted from the SMARTER goal setting framework (Hersh, Worrall, Howe, Sherratt, & Davidson, 2012)
References:
Hersh, D., Worrall, L., Howe, T., Sherratt, S., & Davidson, B. (2012). SMARTER goal setting in aphasia rehabilitation. Aphasiology, 26(2), 220-233. doi: 10.1080/02687038.2011.640392